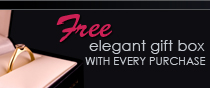 Return Policy
Customer satisfaction is our #1 priority! 100% satisfaction guaranteed.

Every item is carefully inspected before shipment to ensure you are receiving your merchandise in perfect condition. Please contact us immediately if there are any problems with your order.

If you are not satisfied with your purchase for any reason, you can return the item for a full refund or an exchange, no question asked.

We offer 30 days return policy from the day you receive the item with no restocking fee (with the exception of items that need to be resized.)

Please contact us at service@eldoradogems.com before returning the items and we'll issue you a Return Authorization Number.

All items must be returned in their original condition.

Items that were resized by customer or modified in any way by customer cannot be returned.

Special and Custom Orders are not returnable.


Shipping and handling fees are not refundable.